Scaling question... (maybe problem)
Nov 16, 2013, 00:28
moltres_rider
Moltres Rider & Poképhile

Posts: 338
Joined: Jan 2011
Scaling question... (maybe problem)
Why is it when you scale a small image like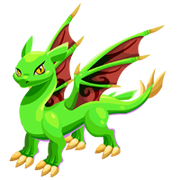 to a very large size, the result of the image has partially transparent edges??
you see the problem is that this dragon is supposed to be bigger than me and I can stand up tall underneath this dragon and I edit myself to be so, scaling the dragon up, and me down while trying to keep it in proportion with trees and surrounding scenery... but doing so results in partially transparent edges making alpha to selection not work as intended when I need to make front legs, back legs or whatever in front of me (when I switch to the 'me' layer to remove selection) you get problems due to partial transparency... why does this occur?? or is this some kind of problem?
Nov 16, 2013, 05:29
iForStyle007
gimpMate-of-the-month XD


Posts: 1,272
Joined: Jun 2013
Reputation: 21
RE: Scaling question... (maybe problem)
Just seeing this thread now, & I'm back early (away message says saturday)
Anyways, it got me thinking, .GIF uses limited colors, what if I converted the image to indexed colors?
Suprise, I scaled your image up to 640 x 640 in indexed & rgb and it was significantly clearer in indexed mode
In indexed mode or no interpolation on scale, the image will look visually sharper, but you lose smooth lines, thats the trade off.
In RGB mode, if you scale up with interpolation: Sinc (Lanczos3) or interpolation: cubic would be best. Sinc makes the eyes sharper.
Just don't go crazy upscaling your photos, if you want it to look like a giant, scale the picture to 1 or 2 times its size, then scale down your "me" picture to fit.
*You can get the same result scaling up turning off interpolation. "Interpolation: none" *
You will have some jagged edges though as you're stretching smaller pixels to bigger ones. "The sprite effect"
Try it out for yourself MR!
Heres how:
1 Change image mode to indexed(.GIF):
- "Image > Mode > Indexed"
(in the options, pick the max number, 255 colors I think, click "ok"
2 Then make your canvas size 640 x 640.
"Image > Canvas Size..."
In the window be sure to click "Center" then "ok"
3
pick the scale tool
Then scale the image up to 640 w, link the proportion so the height auto sizes while you scale up the width to 640.
(or in RGB, scale, interpolation: none)
If you do this in RGB mode you'll notice it gets blurry but the lines are smooth.
--This is just if you want to remain in Gimp for whatever reason.
BUT
I'd also recommend that above post on using Inkscape as you may get better results.