Apr 25, 2011, 09:29
Ronando
Junior Member


Posts: 24
Joined: Apr 2011
Reputation: 0
New sig
Hey guys I made this Batwom-eh.. I mean Batman sig, can you tell me If you like it?
---
May 12, 2011, 19:08
RE: New sig
batmans always a thumbs up for me...id maybe smear the background a bit, or maybe a heavy blur...just to pop him out a bit...but im no pro.
May 14, 2011, 00:26
Willy
The One and Only Willy


Posts: 239
Joined: Feb 2011
Reputation: 5
RE: New sig
Eh, COlors could use help, depth just isn't there for me... and Text is ehh
May 19, 2011, 12:34
WLockIV
Junior Member


Posts: 3
Joined: May 2011
Reputation: 0
RE: New sig
You should really work on blending your text and render into the BG. I don't know of this is true or not, but it looks like you cut out a picture of batman then slapped him on the background and typed your name next to him.
May 20, 2011, 01:35
RE: New sig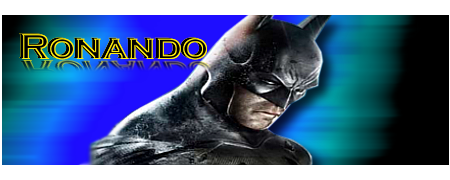 i just did a different text and a motion blur on the back ground...and sharpened up batman a bit...just to show ya how a little bit of playing around could make a bit of difference.