Oct 10, 2014, 15:02
Futant
Junior Member


Posts: 1
Joined: Oct 2014
Reputation: 0
Losing image quality
Hi, I am doing a favour for a friend and have hit a problem. He has a three colour image which is to be screenprinted onto fabric. I have been tidying it up so it is excactly three colours, apparently necessary for the printing process. However, when I save my version the resulting file always has a fuzzy border in darker shades of the original colours. Am I using the wrong file type, or something else?
Here is the image in gimp:
Here is the saved (no compression) tif file: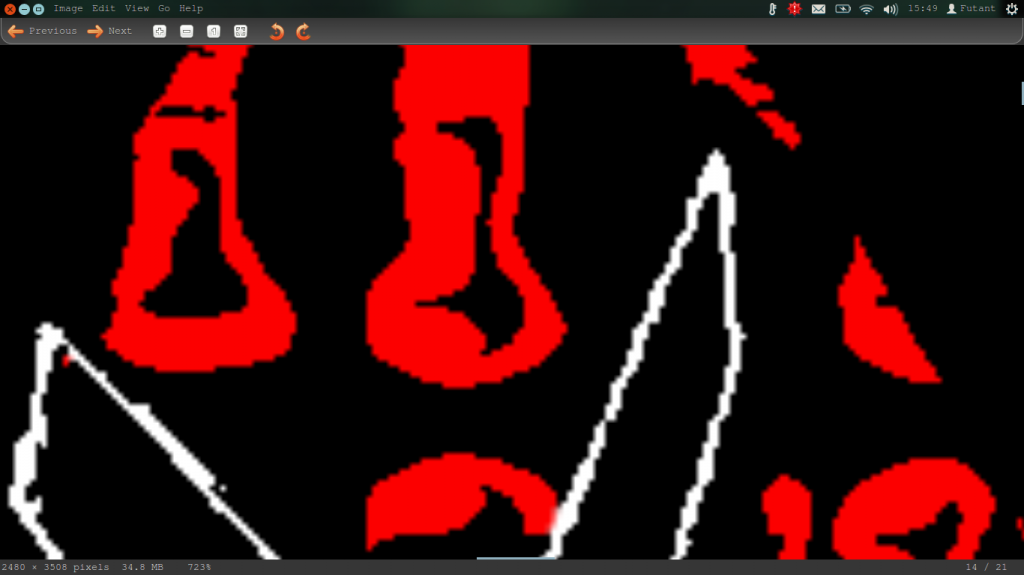 Hope someone can help me out here, thanks.
Oct 10, 2014, 16:05
ofnuts
Now on Gimp-forum.net


Posts: 6,893
Joined: Jun 2010
Reputation: 111
RE: Losing image quality
The blurriness is everywhere: black/white, black/red, white/red.

TIFF shouldn't be a problem if it's true TIF without JPEG compression, but even the JPGE compression doesn't blur the image like this.

You aren't looking at the image with Gimp, so one can always wonder how your image viewer displays an image at 723% zoom (maybe the display is sharper at 800% because it won't need to interpolate pixels). If you reload the image in Gimp and it is not blurry then the file is OK. You can also try other image viewers.

Note that if you print on black you have three colors available outside of black.
---
Oct 10, 2014, 16:07
rich2005
Super Moderator


Posts: 1,985
Joined: Jul 2011
Reputation: 30
RE: Losing image quality
You need to ask the printing company what they require.
A screen print is just a series of masks on a material with some blocking material (for home/amateur use traditionally muslin/wax) which allows a pigment to cover part of the paper or fabric. These days a process using photosensitive material is used.
Your images are all 800 times zoom are they maybe parts of t-shirt printing?
Maybe separate layers for each colour will do,
More probably a four colour CMYK required. If so, a can of worms, Gimp maybe not the best for this.
Whatever is required, the bit of anti-aliasing show on those screenshots will not make any difference.
---
** https://www.gimp-forum.net/ now answering questions**