Oct 10, 2014, 15:02
Futant
Junior Member


Posts: 1
Joined: Oct 2014
Reputation: 0
Losing image quality
Hi, I am doing a favour for a friend and have hit a problem. He has a three colour image which is to be screenprinted onto fabric. I have been tidying it up so it is excactly three colours, apparently necessary for the printing process. However, when I save my version the resulting file always has a fuzzy border in darker shades of the original colours. Am I using the wrong file type, or something else?
Here is the image in gimp:
Here is the saved (no compression) tif file: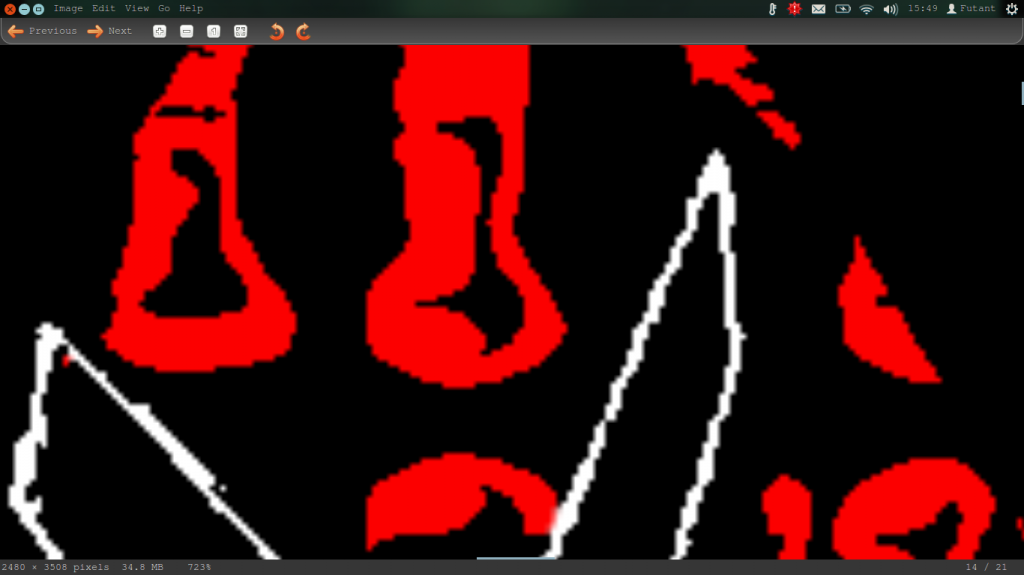 Hope someone can help me out here, thanks.
Oct 10, 2014, 16:07
rich2005
Super Moderator


Posts: 1,986
Joined: Jul 2011
Reputation: 30
RE: Losing image quality
You need to ask the printing company what they require.
A screen print is just a series of masks on a material with some blocking material (for home/amateur use traditionally muslin/wax) which allows a pigment to cover part of the paper or fabric. These days a process using photosensitive material is used.
Your images are all 800 times zoom are they maybe parts of t-shirt printing?
Maybe separate layers for each colour will do,
More probably a four colour CMYK required. If so, a can of worms, Gimp maybe not the best for this.
Whatever is required, the bit of anti-aliasing show on those screenshots will not make any difference.
---
** https://www.gimp-forum.net/ now answering questions**