Mar 13, 2012, 02:36
FaithJ
Junior Member


Posts: 7
Joined: Mar 2012
Reputation: 0
Installing Plugins
I'm using Ubuntu 11.10, which is totally new to me. I downloaded the pdf manual for GIMP. OK. I was trying to install a script (.scm file). I followed the instructions, but it didn't install. After typing it all here I found a typing error. I redid it.
Now I get this message:
Quote:cp: cannot stat `double-border.scm': No such file or directory
This is just a small file that looks like this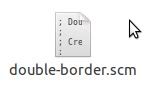 So, my question is: Should I have this in a specific place for it to work? If so, where?
Also, how do I get the help files to open when I click on help in GIMP? I currently get a message that says they are not installed. Will they be the same as the pdf file, if they get installed? Same as online?
TIA