Find and Replace graphic/texture within image
Apr 26, 2014, 20:51
(This post was last modified: Apr 26, 2014 20:53 by Wolfgange.)
Wolfgange
Junior Member


Posts: 1
Joined: Apr 2014
Reputation: 0
Find and Replace graphic/texture within image
Is there a plugin of some sort that would be able to find your selection within an image and replace it with another graphic? For instance,
I have this picture of a 2D "Minecraft" (A voxel-based game).
There are different blocks that have textures on them. I am trying to replace all the wood textures with a new wood texture. The same with grass and stone.
So I would change this: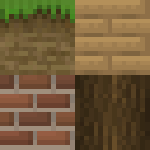 To this (Or another texture opack);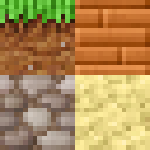 Is it possible to automate this process or do I have to paste the new texture over every spot I see the old texture?
Thanks in advance
.